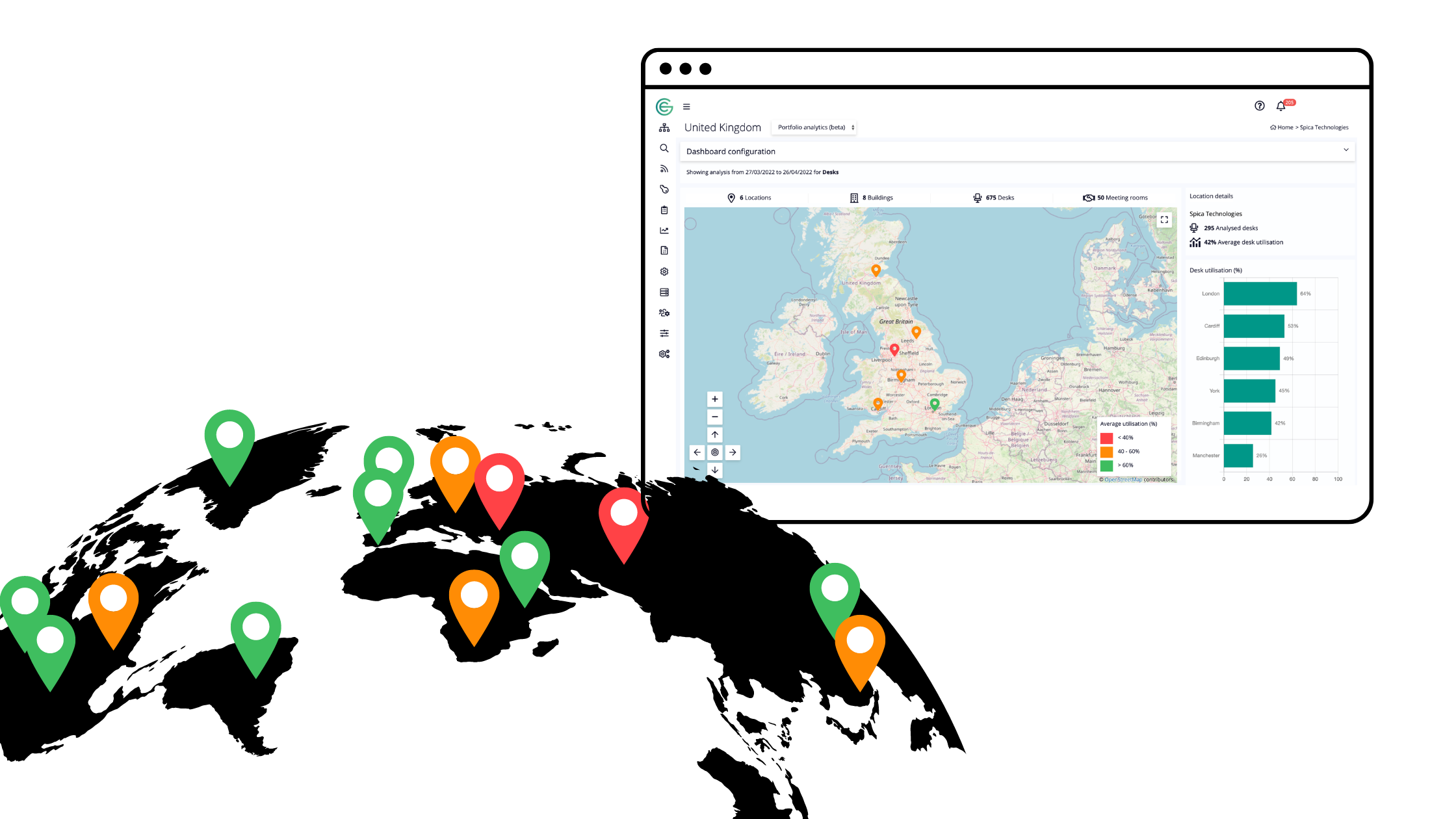 SMART DECISIONS FROM SMART DATA
Global workplace insights delivered in an instant
The Portfolio Analytics dashboard sits within the GemEx Engine® platform. Evaluate the overall health and history of your portfolios using big data to make accurate portfolio investment decisions. 
Providing you with the analytics to track and compare utilisation levels and business data across your digital twins to identify potential gaps, highlight growth opportunities and report on the success of new initiatives.
Geo-referenced and colour-coded map markers with interactive controls, to make navigating between your locations easy to manage. Supplying you with a unique window to compare your portfolio on a global, national and regional level.
Use historical and real-time data to understand your changing space needs, make workplace planning easier and ensure you make the right sustainable investment decisions.
Access and export detailed analytics with the ability to drill down all the way to raw sensor data, apply your own filters and analyse from a single day to up to 3 months of historical data in order to gain valuable insights and deliver significant financial savings.
Data-driven Decisions
Build business cases with valuable information and hard big data on occupancy and space usage.
Understand Behaviour
Maximise space efficiency, track the success of change initiatives and encourage employee experience and productivity.
Rightsizing Real Estate
Simplify complex decisions on which sites to expand or retract in order to meet employee supply and demand.
Any-level Comparison
Fully interactive controls to make navigating between country and regions easier. Zoom in to areas of interest and compare between estates.
Powerful & Detailed Portfolio Analytics
MANAGE MULTIPLE
PORTFOLIOS
SOLVE WORKPLACE
CHALLENGES