What is a digital twin?
In corporate real estate, we define a digital twin (DT) as a realistic digital representation of the physical space within a building, or portfolio of buildings. The DT can be easily contextualised with information and augmented with real-time data feeds to give meaning and track status. This could be from sensors, external business systems or user feedback.
However a digital twin or spatial model is primarily a tool that exists to serve one or more solutions, from desk booking to way-finding to estates planning. The specific usages often include things like historical analysis, reporting, real-time alerts, visualisations and location aware features as well as modelling and predictive analytics.
What are the core components?
Structure: The DT should be able to reflect the real-world space, indicate relationships between items, aid management, analysis and security. This structure can be both hierarchical and utilise a taxonomy. It's the backbone that makes how platform administrators can have an easy time of managing their DT.
Capacity for change: It must be simple to create, update, move, delete and audit items. This ensures the DT continues to accurately reflect your corresponding real-world space.
Visuals: A visual display of the digital twin is used to support installation, data understanding and real-time decision making.
Security: Any digital twin used as part of an enterprise business solution must have suitable security controlling both read and edit access. We believe a role-based approach is required for effective user management.
Integration: We associate data from external sources, (eg. IoT, IPS, BMS, CAFM, CMS or room booking) with items in the digital twin to provide status information and meaning. Any integration must be secure, robust and able to handle change. Digital twins that are pro-integration allows for you to make the most of your existing data.
Contextualisation and outputs: A spatial model is all about presenting business information in a consistent, meaningful and usable way, regardless of the underlying data source. A digital twin should cut through the noise of big data to deliver meaningful information to the right user. A single DT can be modelled in multiple ways, it is always important to focus on target audience, context of use and business value. What do you want to know? How are you going to use it? Improve occupant experience, visibly measure improvements in cleaning services, save employee time and increase productivity? The possibilities are vast and evolving with digital twin technology.
Why are DTs becoming more popular?
While people don't buy a digital twin, in the same way no-one buys IOT, there are a number of factors that are driving the adoption of these solutions:
An increased awareness of available data sets for understanding how a building is performing. Combined with a desire to merge these for deeper insights.  
Consumer-type expectations for real-time data via a frictionless UX, from both business and employees. 
Compliance reporting, demonstrating services, equipment and facilities are meeting standards and reducing the need for manual verification. 
An increased recognition on the ROI of investing in employee wellbeing, in terms of productivity, talent attrition and retention. 
Covid-19 – back-to-work safety checks and real-time monitoring once staff to re-enter the offices (alarms for over-crowding etc)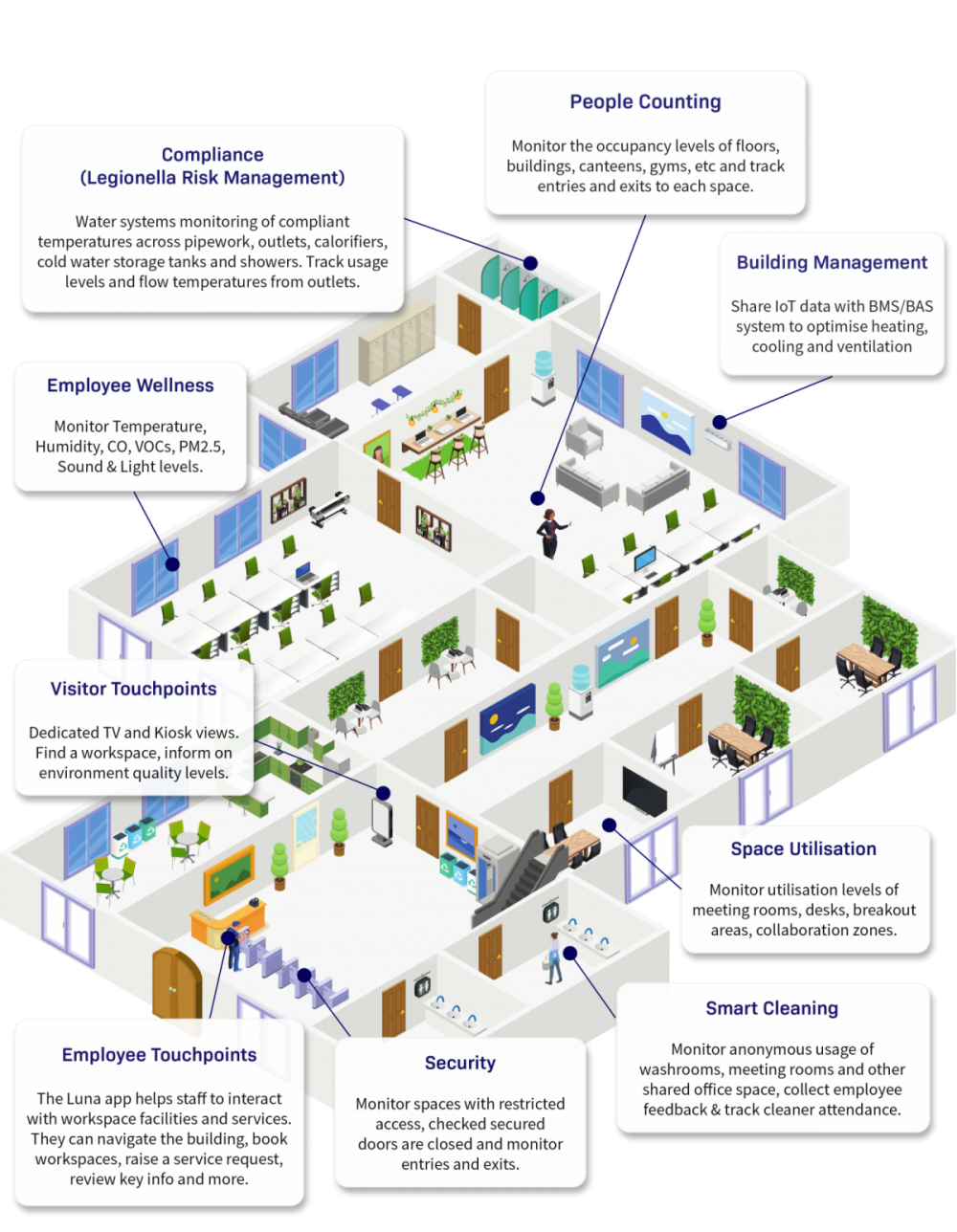 How do you build a digital twin?
It's key to ensure your digital twin is accurate and complete. The solutions it serves will deliver value inline with the quality of the underlying DT. The user experience of managing the digital twin is therefore critical. Ensuring it is easy, efficient and precise to use can make a huge impact to overhead costs and ROI.
Collecting and maintaining information
Begin by understanding the relevant information to capture and then embedding processes for maintaining this. This can include things like naming conventions, floor plans, reporting settings, asset type, capabilities and facilities. Typically we work with clients to identify the key information required for their use case. Providing checklists and best practises to support this. Within GemEx Engine® we have options to move and change the type of assets as well as define your own taxonomy for information classification.
Flexibility, accuracy, specificity and presentation of information
Your digital twin needs to accommodate change and allow precision in the type of data captured, it's important to be able to tailor the contextual information captured to align with the customer's model of the world. Millimetres on screen can translate to meters in the real-world impacting location-based services and any UX barriers can increase the risk of manual error when building out the twin. When editing the GemEx spatial model we added functionality to auto-detect the shape of rooms, halving the install time whilst increasing accuracy.
What to look out for in a digital twin based platform
Supported data sources: Can you capture the data you need? Can you integrate your existing business systems, can you layer and un-silo data?
Enterprise scalability: DT's have to be capable of consuming and analyzing very high volumes of sensor and other building and enterprise systems data. All while meeting stringent security standards.
Flexibility and customisation: There is no one size fits all approach, can the platform provide and maintain an accurate model of your real-world spaces.
User-focused design: The easier it is to work with your data, the easier and faster it will be to uncover key insights, build business cases and demonstrate change success. Being able to custom filter through large datasets, easily spot patterns and compliance and be able to visualise and locate data will all add value. Having a deep understanding of user needs results in more meaningful and helpful ways of interacting with the digital twin, for example we present different targeted live view perspectives with information tailored based on roles and responsibilities, not everyone needs to see all of the data, alerts or actions which cuts through the big data noise.
Extendable: Thinking to the future. What is the potential to quickly deliver new use cases, new features and new ways of thinking?
With all that said, you should be prepared to find the right platform for your company. If you're searching for your own digital twin platform, add the GemEx Engine® to your list. With recent updates to our digital twin building mode you can create your spatial model faster than ever before. Alternatively contact us to speak with our Digital Workplace Consultants. They will be happy to answer any questions on your digital workplace transformation.