Spica's Workplace Experience App is always in a constant state of evolution; continuous improvement is the name of the tech game.
Commercial PropTech has for a while been the realm of large global organisations whose requirements for estate size, integrations and customisation benefit from streamlining their workplace. This is still true but smaller organisations, have largely been unable to take advantage of the advances that have been happening due to ever tightening budgets.
Making PropTech More Accessible
PropTech covers all technology relating to real estate, and innovators have been making strides in the private sector, but commercial real estate is having its moment also. Where do smaller companies fit in? There are a few blockers, as we like to call them, that traditionally stopped smaller companies taking on new Workplace tech: Blockers like cost, integrations, ease of use and accessibility.
The Spica team have taken down these blockers one by one. We created the core Luna "Core" package to provide a simpler entry point into Workplace Experience Apps; for businesses that need rapid deployment (especially pertinent to help promote safe and productive back to office programmes in light of Covid-19). at a market leading price point. Spica are integration agnostic, meaning we can integrate with any existing or preferred external systems (e.g. Room Booking, Occupancy Sensor, Access Control or CAFM); or alternatively Luna Core can happily work stand-alone harnessing the power of in-built tools including its underlying GemEx Engine(r) Digital Twin and Headless Reservations platform . Ease of use and accessibility is imbedded into our development, testing and end-product. We work with our clients to develop new features and improve existing ones.
"Out-the-Box" Workplace Experience App
The capabilities and functionality of Luna are wide-ranging. Our product experts homed in on the essentials that could be rolled out to clients in a quick timeframe without the added cost of sensors and integrations. An app whose features could stand alone. This is what would become the core modules of Luna. Luna being a white label app can be known by many different names and module variations but at the core of any version are the four modules of Authentication, Dashboard, Book and Find.
Core Modules
The core modules were carefully chosen to address the issues we all currently face in today's workplace with COVID-19 still These core modules are Authentication, Dashboard, Book and Find. Dashboard allows users to navigate the app whilst Authentication lets users login with their company credentials securely. Book lets staff reserve strategically allocated spaces for safety and efficiency whilst Find helps building occupants safely navigate to Points of Interest within the workplace.
Your Smart Workplace
So practically what can Luna and all possible modules do for your workday and those of your team? A smart workplace is one that connects your people, your workplace and your tech. Find important information about on-site facilities team and the facilities you need like the gym, catering and breakout areas. Book meeting rooms, desks and equipment. Simply put, make the smart workplace work for you.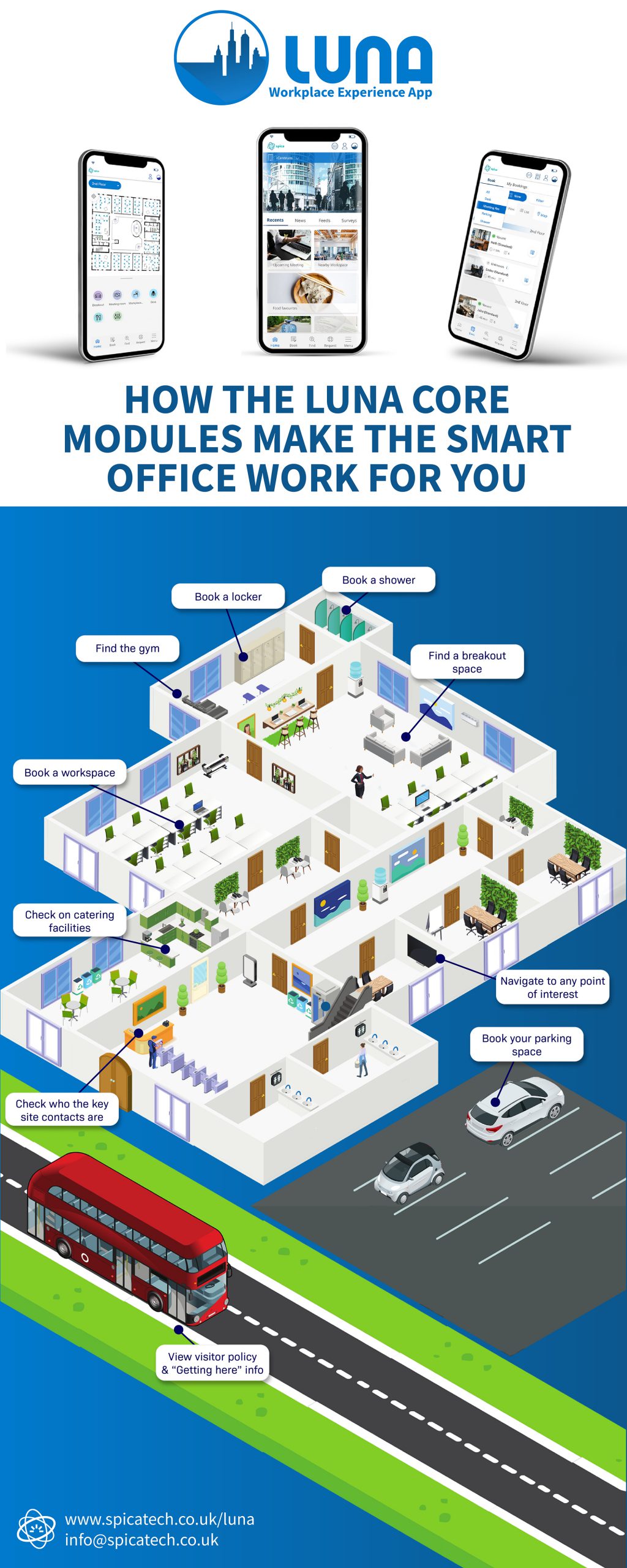 If you thought the smart workplace was out of reach you may need to take a second look. Our digital workplace consultants are on hand to answer your questions and queries about Luna and how it can work for your company as you plan your return to the workplace. Visit our Luna page to request a demo or click here to explore all of Luna's features and capabilities.