Imagine…London September 2022
England is bullishly optimistic of a winter World Cup victory in Qatar, still basking in the success of winning Euro 2020. The Summer of "Live" is still echoing in the bars and clubs up and down the country as live events returned for good, following the false start in 2021 after another year of stop-start lockdowns due to the Indian variant tearing up our governments' best laid plans.
95% population vaccination and near-herd immunity were finally achieved earlier in the year, both in the UK and globally in the main. This heralded a new state of manageability of the Covid virus. More in line with our long term acceptance of seasonal flu. Other pandemics would surely hit us in the future of course, but the world had learnt and was better prepared for containment. We still wore masks in public spaces indoors, and regular testing was a way of life via weekly skin prick kits, but this was a small price to pay for our freedom for sure.
The perfect collaboration space
I was working in a flex office today, one of many hub spots our company subscribed to. We closed our main London site some 6 months before. I chose the location that morning, or rather Luna chose it for me, on my way back from a partner meeting in the city. I needed a collaboration space to work on a tender and knew Pete and Sally were also in London that day. So I asked Luna to find us a convenient location based on our GPS tracking that fit all our diaries. A space that had a suitably sized meeting room and environmental conditions based on my pre-set temperature and lighting preferences. It definitely had to have tele-conference facilities. We needed to loop in Carla remotely over Teams as she was working from a client site in Spain this week and most importantly we needed good coffee!
The Luna app sync'd everything up, made the booking, updated our diaries and sent us location and travel details. When I arrived at the office, Luna automatically interacted with the building access control system. This allowed me access through the reception security gates, and into the area of the building that I had security privileges for. The app instantly synced with the building systems to share my vaccine passport credentials, registering my clearance. Walking through the building, I approached the cafeteria, and Luna pinged a push notification on my phone with a QR code voucher for a free coffee – great service!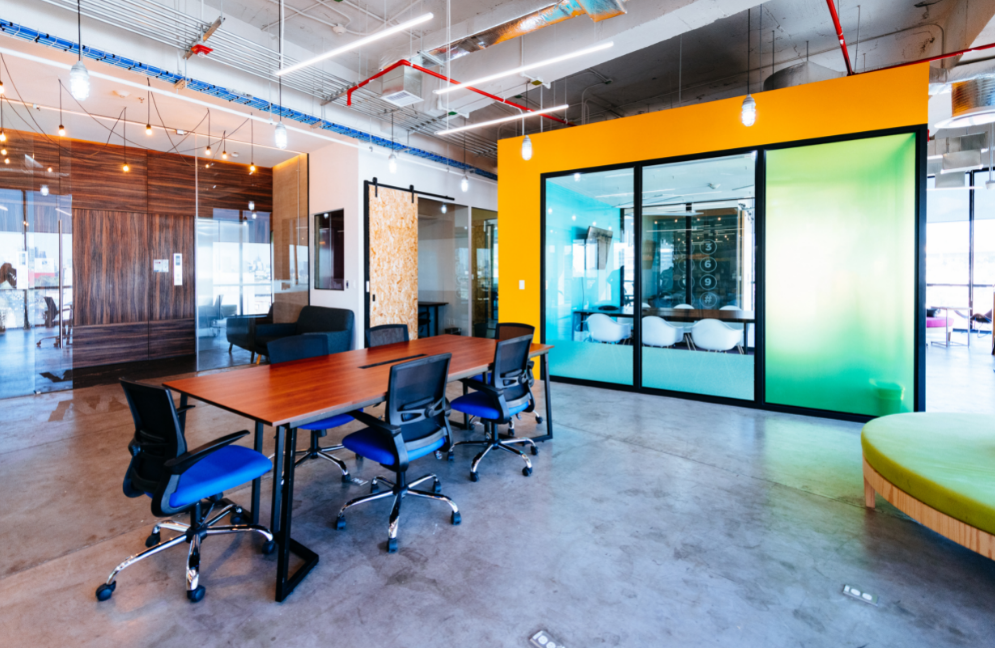 Workplace Amenities
I hadn't used this office hub before, so with Luna's way-finding module I was guided to our reserved meeting room on the 4th floor. Using the same geo-location tech the door is unlocked and I'm auto-checked into the meeting room. This stars our timer for pay-as-you-go use of the space, auto charging to our account with the landlord.
Unfortunately there was a problem with the AV equipment when we tried to start the Teams meeting. I raised a service request within Luna. 5 minutes later a workplace co-ordinator arrived and fixed the issue (a faulty HDMI cable). We were back in business, and got on with the work in hand.
After a few hours we were hungry, so asked Luna to show what catering options were available. Luna sent these to the meeting rooms smart display so we could all see. We chose burritos from the Mexican on the high street, and we paid via Luna's digital wallet. The food was delivered to the room saving us time to focus on the tender, and avoid the crowded restaurant. At the end of our meeting, we rated the office space and its' facilities within Luna. This gave us another 3 loyalty points to reduce our subscription cost for future visits. We checked Luna's travel module to work out the best transport options to get home. We had time to squeeze in a quick pint in the pub across the road before heading our separate ways. With the tender submitted we had completed another productive and efficient day.
Tomorrow I'll be working from home, to juggle childcare as my wife is attending an event in Newcastle. I still benefit from the Luna assistant to plan the rest of my week. Working out whether to travel to the HQ office on Thursday. Based on predictive analytics and occupancy sensor trend data Luna forecasts how busy it might be. I can also find out if my colleagues have reserved desks so I can decide if it's worth the trip.
Back to the Present
Fair enough some of that may never happen (the football that is), and of course I hope I'm wrong about the Indian variant this year, but the workplace tech itself is already here and available to support hybrid workers today. The only limit to future possibilities is the imagination of our employers to embrace change, and the need for flexibility in how to best support staff regardless of the physical location of the workplace on any given day. At Spica, we are lucky to be partnering with like-minded companies such as Zurich Insurance, EY, Mace and M&G Investments who believe in bettering the employee experience through digital workplace programmes. Is your company doing the same?
So, to address the question in the title – why do we need choose? Both are attainable if we continue to evolve our thinking of the modern workplace, and disrupt the norms with technology.
Dare to dream.
If you would like to learn more about Spica and our Luna app please get in touch. Our digital workplace consultants are available to answer your questions.